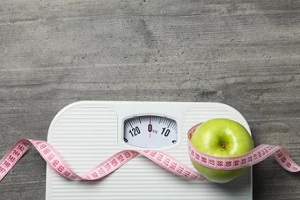 A healthy weight management strategy is essential for overall well-being and disease prevention. With obesity rates on the rise and various diets promising quick fixes, focusing on a long-term, sustainable approach to weight management is crucial.
Understanding Your Weight Status and Health Risks
Before embarking on any weight management strategy, it's essential to determine your current weight status. This can be done by calculating your body mass index (BMI). BMI is a formula that factors in your weight and height to estimate your body fat. For example, a healthy BMI ranges between 18.5 to 24.9. On the other hand, a BMI between 25 and 29.9 is overweight, and a BMI of 30 or higher is obese.
Being overweight or obese can increase the risk of various health issues, such as:
Heart disease: Excess weight can contribute to high blood pressure, high cholesterol, and other factors that increase the risk of heart disease.
Type 2 diabetes: Obesity is a significant risk factor for developing type 2 diabetes, characterized by high blood sugar levels and insulin resistance.
Certain cancers: Being overweight has been linked to an increased risk of various cancers, including breast, colon, and endometrial cancers.
Osteoarthritis: Carrying extra weight can put additional stress on joints, leading to osteoarthritis and joint pain.
Sleep apnea: Obesity can lead to sleep apnea, in which breathing is repeatedly interrupted during sleep.
Developing a Healthy Weight Management Strategy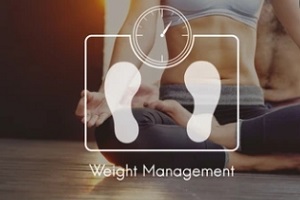 Getting to a healthy weight may seem daunting, but you can achieve lasting results with the right approach and mindset. A successful healthy weight management strategy involves a combination of key elements, including:
Set Realistic Goals
Aim for a safe and sustainable weight loss rate of one-half to two pounds per week, focusing on making gradual and lasting lifestyle changes rather than seeking quick fixes. Break your long-term goals into smaller, achievable milestones, and celebrate each accomplishment to help maintain motivation and track your progress.
Embrace a Long-term Mindset
Recognize that achieving and maintaining a healthy weight requires an ongoing commitment to lifestyle changes. Shift your perspective from temporary diets to long-term habits. Cultivate a positive attitude, celebrate your successes, and learn from setbacks to help sustain your motivation and build lasting habits.
Prioritize Nutrition
Create a well-rounded diet that includes a variety of fruits, vegetables, whole grains, lean proteins, and healthy fats. Limit calorie-dense foods high in sugar, sodium, and unhealthy fats. Experiment with new recipes and flavors to keep your meals enjoyable, satisfying, and aligned with your nutritional goals.
Monitor Portion Sizes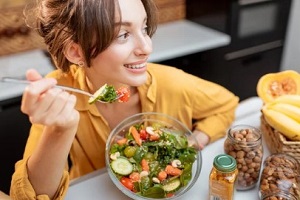 Being mindful of serving sizes can help prevent overeating. Utilize smaller plates to control portions, and practice mindful eating to recognize when you're full.
In addition, consider dividing your meals into smaller, more frequent meals throughout the day to manage hunger and maintain stable blood sugar levels.
Read Food Labels
Understanding food labels empowers you to make informed choices about the foods you consume. Seek out products low in added sugars, unhealthy fats, and sodium. Be aware of serving sizes, as some packages may contain multiple servings, leading to unintentional overeating.
Don't Skip Meals
Resist the temptation to skip meals, particularly breakfast, which can help jump-start your metabolism and prevent overeating later in the day. Eating regular meals and snacks can help manage hunger, promote better food choices, and maintain consistent energy levels throughout the day.
Reduce Alcohol Consumption
Alcohol, being calorie-dense, can potentially lead to weight gain or impede weight loss efforts. Strive to moderate your alcohol consumption, and when you choose to indulge, consider lower-calorie alternatives like light beer, wine, or spirits combined with zero-calorie mixers.
Stay Accountable
Maintaining accountability can be crucial in staying on track and making necessary adjustments to your strategy. Keep track of your progress through regular weigh-ins, food logs, or support groups. Engage with friends, family, or online communities to share your journey and gain encouragement.
Exercise Regularly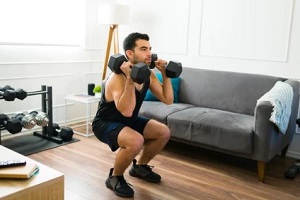 Incorporate a balanced mix of aerobic and strength-training exercises into your routine.
Aim for at least 150 minutes of moderate-intensity or 75 minutes of vigorous-intensity aerobic activity per week, along with two days of strength training. Choose activities you enjoy and vary your workouts to prevent boredom, maintain motivation, and promote overall fitness.
Track Nutrition and Exercise
Consistently logging your meals, snacks, and exercise sessions in a food diary or digital platform can significantly benefit your weight management strategy.
Tracking helps you assess your daily calorie intake, macronutrient balance, and activity levels, allowing you to identify areas for improvement and monitor progress over time. This increased awareness and accountability can lead to better adherence to your goals and sustained motivation throughout your journey.
Achieve Lasting Weight Loss Success With Imperial Center Family Medicine's Expert Guidance
Adopting a healthy weight management strategy can transform your life in numerous ways. By focusing on realistic goals, prioritizing nutrition, and staying committed to your plan, you'll set yourself up for long-term success. The benefits of a well-rounded weight management strategy extend beyond the scale, improving your overall health, boosting your energy levels, and enhancing your quality of life.
If you're struggling to achieve a healthy weight on your own or have medical concerns related to your weight, consider seeking professional help.
Imperial Center Family Medicine offers personalized guidance, support, and resources to help you create and implement a healthy weight management strategy that suits your needs. So take the first step toward a healthier you by reaching out to our weight management experts at 919-873-4437 or scheduling an appointment online today.