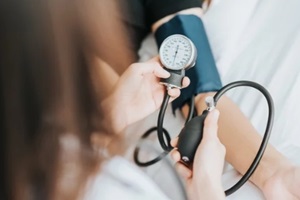 Hypertension is a fairly common condition, affecting almost 1.3 billion adults worldwide, according to the World Health Organization. High blood pressure occurs when the force of blood pumped by the heart and pushing against the walls of your arteries is elevated beyond normal.
While hypertension may not cause noticeable symptoms in the early stages, recognizing key symptoms can help people get an early diagnosis and prompt treatment. There are various symptoms of hypertension you should know. These include:
Headaches
One of the most frequently reported symptoms of hypertension is headaches. High blood pressure can cause severe throbbing pain or dull aches, typically in the back of the head, temples, or front of the head. This headache pain may occur in the morning or throb throughout the day.
Certain triggers such as stress, physical exertion, or specific foods can set off or worsen hypertension headaches. Please pay attention to the timing, location, and triggers of any unusual headache pain, and mention it to your doctor. Frequent headaches may necessitate evaluating your blood pressure.
Vision Changes
Uncontrolled high blood pressure can also affect your eyes' delicate blood vessels and nerves. You may notice episodic blurry vision, spots, floaters, or flashing lights. In severe cases, extremely elevated blood pressure can completely obstruct blood flow to the retina and optic nerve, leading to partial or total vision loss.
Sudden changes in vision or difficulty seeing warrant prompt medical care. Getting your eyes checked and blood pressure under control helps preserve vision.
Chest Pain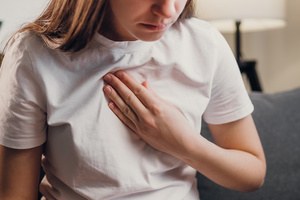 High blood pressure stresses your cardiovascular system and can limit how much blood flows to the heart. This lack of oxygen can cause episodic chest pain, known as angina. You may feel tightness, pressure, squeezing, or aching in the chest, which sometimes radiates to the jaw, shoulders, arms, or neck area.
While angina is not always a sign of hypertension, new unexplained chest pain should be evaluated right away, as it may indicate an underlying heart issue.
Dizziness
Feeling lightheaded and dizzy is another potential sign of elevated blood pressure. As a medical condition, hypertension can prevent enough oxygen-rich blood from circulating to the brain. This triggers dizziness when standing up suddenly or changing positions.
Dizziness that leads to falls or difficulty walking warrants a medical assessment. Monitoring blood pressure and stabilizing it within healthy ranges can alleviate dizzy spells.
Shortness of Breath
High blood pressure requires your heart to put in more effort because it has to push blood through narrowed, stiff arteries. This can leave individuals feeling winded and short of breath during daily tasks. People with hypertension may notice difficulty breathing when climbing stairs, exercising, or getting dressed.
Wheezing, gasping, or panting with little exertion may indicate underlying cardiovascular or respiratory issues, including undiagnosed hypertension.
Epistaxis (Nosebleeds)
Frequent nosebleeds or bleeding from the nose without injury can also signal high blood pressure. Uncontrolled hypertension can rupture tiny blood vessels in the nasal membranes. Individuals may experience frequent minor nosebleeds or occasionally more severe bleeding from one or both nostrils.
While nosebleeds have various causes, a noticeable increase warrants a blood pressure check. Getting hypertension under control can minimize recurrent nosebleeds.
Facial Flushing
Facial flushing occurs when blood vessels in the face dilate rapidly, causing reddening of the cheeks, nose, chin, or forehead. Episodes may also create a warm, tingling sensation throughout the face. Flushing can happen spontaneously or in response to triggering events such as sun exposure, spicy foods, alcohol, and strong emotions.
While facial flushing is generally harmless, persistent episodes may indicate underlying high blood pressure. Discuss any unexplained facial flushing with your healthcare provider.
Pounding in Ears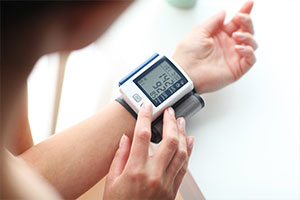 Do you hear a thumping or whooshing in one or both of your ears synchronizing with your heartbeat? This perceptible throbbing, known as pulsatile tinnitus, can stem from elevated blood flow in arteries near the ears.
Underlying vascular conditions such as hypertension can increase blood velocity, causing this disturbing ear symptom. Any new ear noises or hearing changes should prompt medical evaluation and a blood pressure check.
Fatigue
While normal fatigue has many causes, consistent tiredness, weakness, or low energy levels can occasionally stem from high blood pressure. Hypertension requires the heart to pump harder, which can sap your energy and make you feel completely exhausted.
However, fatigue more commonly results from other conditions such as thyroid problems, depression, anemia, or sleep apnea. Discuss unexplained exhaustion with your doctor to determine any underlying health issues.
Hypertension Emergency Symptoms
In some cases, extremely high blood pressure requires emergency care to prevent life-threatening organ damage. Get immediate professional medical help if your elevated pressure causes symptoms such as:
Sudden and highly severe headache
Numbness or weakness on one side
Seizures
Slurred speech
Vision disturbances
Shortness of breath
Chest pain
Back pain
Confusion
Rapid treatment is needed to lower blood pressure and prevent complications such as stroke, heart attack, or aneurysm. Call 911 or go to an ER if you get any of these hypertension crisis symptoms.
Work with Imperial Center Family Medicine to Improve Your Blood Pressure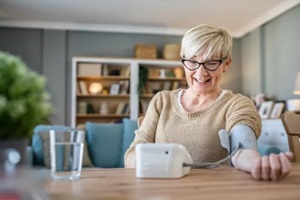 The wide range of potential symptoms makes early diagnosis of hypertension tricky. While headache, vision changes, chest pain, and dizziness are classic warning signs, even vague symptoms such as fatigue and flushing deserve evaluation.
Listen to your body and talk to your doctor immediately about any unusual or concerning symptoms. With lifestyle changes, medications, and ongoing monitoring, most people can manage their blood pressure and reduce complications.
But you don't have to tackle hypertension alone. For personalized guidance on managing high blood pressure and recognizing concerning symptoms in the Durham, NC area, seek the expertise of Imperial Center Family Medicine.
At Imperial Center Family Medicine, our expert healthcare providers have the experience to partner with you on hypertension prevention, diagnosis, and treatment. Contact us today at 919-873-4437 or online so we can help you gain control over your blood pressure and safeguard your long-term health.