Asthmatics are accustomed to bouts of coughing, tachypnea, and shortness of breath, but if these symptoms suddenly worsen, you may wonder if you're experiencing an asthma attack. An asthma attack occurs when the airways become irritated and swollen, resulting in constricted breathing muscles. Untreated acute asthma attacks can be life-threatening.
This article will talk about the early warning signs of these attacks, how to manage an asthma attack, and how to prevent these in the future.
Signs You're About To Have An Asthma Attack
Asthma attacks don't always come out of the blue – sometimes, the signs can begin manifesting days ahead. Be alert for the following signs: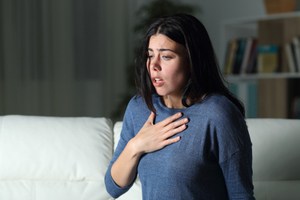 Coughing – Coughing throughout the day or nighttime coughing that may disturb sleep.
Wheezing – Breathing with a whistling sound. You may hear it better when exhaling. It can begin as a low-pitched whistle and increase in pitch.
Shortness of breath – Breathing issues include shortness of breath, the sensation of being out of breath, struggling to breathe, difficulty exhaling, and faster than normal breathing. The chest and neck skin may contract inward when breathing becomes extremely difficult.
Tightness in your chest
Other Signs Include
Feeling fatigued
Being on edge
Being short-tempered or irritable
When Should You Call For Help
You must seek medical help when you begin experiencing the following symptoms:
You have difficulty walking and conversing because it is so difficult to breathe.
You are slumped over.
Your nails and lips are blue or gray.
You are more perplexed or less receptive than usual.
How To Manage An Asthma Attack
According to distinguished medical resources, if you think you are experiencing an attack, take the following steps: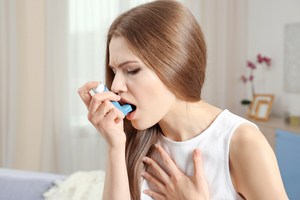 Stay calm. Do your utmost to maintain a steady rate of inhalation and exhalation to avoid aggravating the situation. To keep your airways open, do not lie down; stand or sit upright.
Use your inhaler. Remove and shake the inhaler's cap. Take one puff from the inhaler and hold your breath for ten seconds. Repeat up to three additional times, waiting one minute between puffs.
Call 911 or go to the emergency room. If your symptoms worsen or do not improve in a couple of minutes of using your inhaler, you must see a doctor immediately.
Even if the expiration date for an albuterol rescue inhaler has passed, it is still safe to use. However, the medication may not be as potent so you may need to take more of it to feel better. Do not use a damaged inhaler or one that has been exposed to direct sunlight.
If you lack an emergency inhaler, dial 911 immediately. Try to remain calm and remove yourself from nearby respiratory allergens, such as cigarette smoke, pets, and pollen.
Preventing Asthma Attacks In The Future
Although there is no cure for asthma, there are things that can be done to keep it under control and prevent attacks. If you have asthma, you must reduce exposure to things that might trigger it. This begins with understanding what causes coughing, wheezing, and shortness of breath.
Identifying Asthma Triggers
Asthma triggers can cause a domino effect of symptoms. Some common triggers are:
Air pollution allergies
A cold or flu virus
Exercise
Smoke
Fragrances
It is essential to identify asthma triggers and avoid them.
Avoid Allergens
If you have asthma and allergies, it is important to avoid allergens (things to which you are allergic). Exposure to allergens can temporarily increase airway inflammation, making the possibility of an attack more probable.
Stay Updated on Your Vaccinations
Get a flu shot once a year to protect yourself from the influenza virus, which can exacerbate your asthma for days. Asthma increases the likelihood of influenza-related complications, such as pneumonia and hospitalization.
Take Your Asthma Medications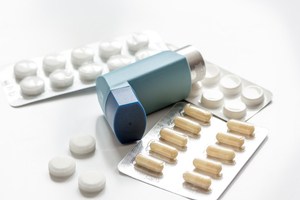 The purpose of long-term asthma medications is to prevent attacks. They will relieve pain in your airways and keep your allergies under control, making an asthma attack less likely. You must take them daily, even if there are no symptoms. If side effects are bothersome, discuss switching to a different treatment with your doctor.
Buy a Home Peak Flow Meter
The device indicates how efficiently air passes through the lungs. During an attack, airways become constricted. The meter can alert you hours to several days before symptoms occur. This gives you more time to take the prescribed medications and potentially prevent an attack.
Need Help Managing Your Asthma? Get in Touch With An Asthma Specialist
Asthma attacks can be frightening, but avoiding future attacks and managing your symptoms with the appropriate treatment plan is possible.
For many individuals, their primary care physician is their most valuable resource for managing breathing problems and preventing attacks. Make an appointment today with an asthma specialist at Imperial Center Family Medicine. Imperial Center specializes in cancer screenings, weight management, and asthma management.