Knowing how your breasts usually feel and look is crucial to your health. This way, you can quickly identify if a potentially breast cancer lump is developing and report to your care provider.
Although breast cancer has a range of symptoms and signs, the most common is a breast lump-a swelling, mass, or growth within the breast. Finding it can be scary and provoke anxiety, but it might be nothing at all since most lumps are noncancerous (benign). In fact, 80% of all lumps turn out to be harmless.
Since you can't determine if the lump in your breast is malignant or benign, it's best to schedule an appointment with your physician as soon as possible.
Breast Lumps: Pain, Size, and Mobility Matter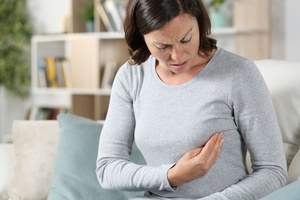 Your breasts involve three main elements: ducts, connective tissue, and lobules. While lobules are glands producing milk, ducts (tubes) transport milk to the nipples.
The connective tissues-consisting of fatty and fibrous tissue-hold organs in place. This breast anatomy creates an uneven, lumpy terrain. However, breast lumps differ largely from these "normal" irregularities.
Noncancerous (benign) lumps can either be unmovable and solid like dried beans, or soft, fluid-filled, and movable (you can touch and roll it). In addition, breast lumps vary in size, from pea-size and smaller to several inches, although it's a rare size.
What separates benign lumps from breast cancer lumps is movement. Unlike a fluid-filled breast lump that you can effortlessly roll between your fingers, breast cancer lumps are hard, rooted in place, and persistent.
While malignant lumps don't cause pain most of the time, noncancerous breast lumps cause pain (though some don't). For example, inflammatory breast cancer (IBC) creates symptoms like tenderness, aching, burning, or pain.
If you find a breast lump, it's best to see your health-care provider. After conducting medical tests like mammograms and ultrasounds, your doctor can tell you whether it's cancerous or benign.
Common Symptoms
Breast tissues may feel ropy or lumpy and be tender during a menstrual period. If you have a breast issue, listed below are a few changes you may notice, such as:
A round, firm, and smooth breast lump
An irregular shaped, hard breast lump
A solid feeling, large lump that smoothly moves under the skin
Changes in your breast shape or size
Fluid discharge from a nipple
Skin dimpling (similar to an orange rind) or redness
Causes of Breast Lumps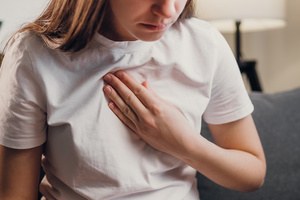 Benign (noncancerous) breast lumps can have several causes, such as fibroadenomas and cysts. Moreover, many other conditions, like sclerosing adenosis and fat necrosis, can also appear as lumps.
To determine whether the lump is benign or cancerous, you should see your doctor or other health-care professionals.
Nevertheless, here are a few causes that may result in breast lumps:
Breast Cysts
Breast cysts are fluid-filled sacs within the breast. Although women can experience cysts anytime, they're increasingly common between ages 35 and 50 and appear before menopause when women's hormones change rapidly and disappear or reduce in size.
Cysts are usually benign (noncancerous) and often caused by blocked milk ducts. They can often feel like water-filled balloons or grapes (soft) and are sometimes firm (hard) and may appear overnight.
Breast cysts (single or multiple) may show up in either breast or both simultaneously.
Fibroadenomas
A fibroadenoma is a noncancerous, solid, firm, and smooth breast lump that easily moves when touched. It's a prevalent breast lump between ages 20 and 35; however, any woman with periods can experience it.
This painless lump is round and can develop anywhere inside your breast tissue. It may get larger due to menstruation, pregnancy, or hormone therapy and feel like peas or coins (flat).
Breast Abscess
Breast abscesses are pus-filled, painful lumps within the breast. They can form when you have a bacterial breast infection (mastitis).
Although this infection often affects lactating women, it can also happen in non-lactating females. Timely treatment of mastitis infection can help minimize the risks of breast abscesses.
Fat Necrosis
A benign (noncancerous) breast lump, fat necrosis develops from damaged or dead breast tissue. Fat cells die and discharge oil, forming small sacs known as cysts (lumps) when the breast tissue gets damaged. Over time, they can harden and form scar tissues.
Fat necrosis can be found in any woman, regardless of age, and anywhere inside the breast tissue.
Fibrocystic Breasts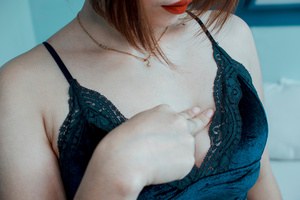 Fibrocystic breast is a benign (noncancerous) condition mainly affecting premenopausal women. This condition included various symptoms, such as breast discomfort or tenderness and the sudden appearance of benign, free-moving, lumpy masses.
Fibrocystic breast changes can be cyclical (each month) or constant and happen in women between 20 and 50 years. Mostly, fibrocystic breasts don't require any medical treatment when they're noncancerous.
Breast Cancer Lumps
Breast lumps that are irregularly shaped, hard, and painless are more likely to develop in breast cancer lumps. Your breast shape and size may change, and the skin turns red, pitted, or dimpled.
Trust Imperial Center Family Medicine for Your Breast Cancer Screening
Although not every breast lump is malignant, it's best to see a doctor when you have one. This way, you can determine whether your lump is benign or cancerous.
If you suspect you have a breast lump, reach out to Imperial Center Family Medicine to have a thorough breast cancer screening. They provide quality medical care to everyone, from kids and teens to adults and older people.
For more info, visit our website or call us at 1-(919) 873-4517.