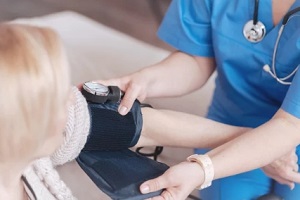 Hypertension, or chronic high blood pressure, is a common condition that requires ongoing management. Uncontrolled hypertension can adversely affect your health, well-being, and quality of life. Working closely with your doctor to regulate blood pressure can minimize these impacts and protect your health.
Debilitating Fatigue
One of the most frequent and disruptive symptoms people with uncontrolled hypertension experience is profound fatigue and critically low energy levels.
Over time, chronic high blood pressure restricts blood circulation and limits oxygen delivery throughout the body. Your muscles quickly tire with any physical exertion due to inadequate oxygen.
Mentally, you may suffer from periodic brain fog, an inability to focus or concentrate for long periods, and overall sluggish thinking. Even simple daily activities, such as grocery shopping, climbing stairs, walking moderate distances, or doing household chores can leave you feeling drained and exhausted.
Getting your hypertension under control through medication, diet, exercise, and stress management helps normalize blood flow and oxygen levels, restoring more normal stamina and energy reserves.
Cognitive Decline
Unmanaged high blood pressure can progressively damage the delicate blood vessels in your brain over months and years. This steadily impairs blood flow, oxygenation, and nutrient delivery to brain cells. The result is a gradual onset of cognitive impairments, including:
Forgetfulness and impaired memory recall
Difficulty retaining and learning new information
Lack of focus, concentration, and attention span
Diminished reasoning, judgment, and decision making
Slower mental processing and comprehension
Properly diagnosing and managing chronic hypertension protects the brain's blood vessels and helps prevent or slow mental decline. Lowering elevated blood pressure often reverses cognitive changes to restore mental clarity and sharpness.
Vision Disorders
Chronic uncontrolled hypertension stresses and strains the tiny retinal blood vessels inside your eyes. This stress damages the vessels, causing them to leak, hemorrhage, and bleed. Symptoms include:
Retinopathy – damage to the retinal blood vessels
Progressively blurry vision
Impaired color perception
Blind spots or dark voids in your field of vision
Sudden flashes of light
Floaters or drifting spots in your visual field
Optic disc swelling
Without treatment, hypertension can lead to retinal bleeding, optic nerve damage, and permanent visual impairment, including blindness. Controlling your blood pressure within a healthy range preserves retinal vessel integrity and helps prevent vision loss.
Sexual Dysfunction
Both men and women often develop sexual problems from chronic uncontrolled high blood pressure. Over time, hypertension damages blood vessels and reduces blood flow to your genital tissues. This impairs physiological sexual arousal and response for both sexes.
Women may experience decreased libido, inadequate vaginal lubrication, and difficulty reaching orgasm. Men are more prone to developing erectile dysfunction due to insufficient blood flow.
Getting your hypertension under control through medications, diet, exercise, and stress reduction helps improve genital blood flow and often restores normal sexual functioning.
Increased Pain
Poorly controlled high blood pressure strains blood vessels, including those surrounding nerves. This added pressure inflames the vessels and compresses nerves, which can significantly worsen many types of pain, including:
Frequent headaches or migraines
Generalized muscle aches and pain
Joint pain or arthritis
Lower back pain
Nerve pain, numbness, or tingling
Lowering your elevated blood pressure to a healthy range takes the pressure off compressed nerves and tissues, providing welcome pain relief. Be sure to discuss any new pain symptoms with your doctor.
Disrupted Sleep
Chronic hypertension disrupts your body's natural sleep-wake cycles. This makes it challenging to fall asleep and stay that way through the night. Frequent nighttime awakenings and constantly interrupted sleep are common complaints.
Lack of deep restorative sleep exacerbates high blood pressure, while hypertension also degrades sleep quality – resulting in a vicious cycle. Getting your hypertension under control through medical and lifestyle modifications helps restore healthier sleep architecture and more regular rest.
Skin and Hair Manifestations
The strain of chronically elevated blood pressure damages small dermal blood vessels that supply oxygen and nutrients to your outer layers of skin and your scalp. This starvation leads to aesthetic changes, including:
Skin pallor or unusual flushing
Ruddy or mottled skin complexion
Acne, psoriasis, or eczema flare-ups
Excessive facial sweating
Patchy hair loss or thinning hair
Dry, itchy skin
Properly controlling hypertension protects these delicate dermal capillaries to prevent skin and hair problems.
Emotional Distress
Coping with uncontrolled chronic hypertension often causes significant emotional distress. Anxiety about your health status, constant fatigue, pain, and functional impairments provoke stress. Hypertension can strain interpersonal relationships with loved ones.
Mood changes such as irritability, sadness, and depression are common. But successfully regulating your blood pressure provides tremendous emotional relief, restoring confidence in your health.
Greater Risk of Serious Conditions
High blood pressure steadily damages blood vessels and organs throughout the body over time. This greatly increases susceptibility to several dangerous conditions, including:
Heart attack, heart failure, or stroke
Kidney disease or renal failure
Peripheral artery disease
Aortic aneurysm and rupture
Vascular dementia
Carefully managing chronic hypertension protects the body and reduces the heightened risks associated with elevated blood pressure.
Partner with Imperial Center Family Medicine for a Better Quality of Life
Although lifestyle improvement helps control blood pressure, keeping hypertension in a healthy range involves diligently taking medications, monitoring your blood pressure, and seeing your doctor regularly. Even with treatment, blood pressure can fluctuate due to diet, medications, stress, and other factors. Hypertension management requires an ongoing team effort between you and your physician.
Imperial Center Family Medicine has an experienced, caring team focused on helping patients optimize their health through blood pressure control. Contact us today at 919-873-4437 or online to start your journey toward wellness. Together, we can effectively manage your hypertension so you feel your best each day.